Hello Everybody,
I just found your forum and it seems to be a pro place, so I would like to expose my "little big" problem :
I just bought a Dell U2410 wide gamut. I thought that it was a good choice for a monitor, less expansive than an Eizo, I had not enough money for these monitors… but a better than a lot of monitors.
Just to explain that easily, let see these images :
Here is a simple screen capture (windows) of what I see when I load the same image in different software :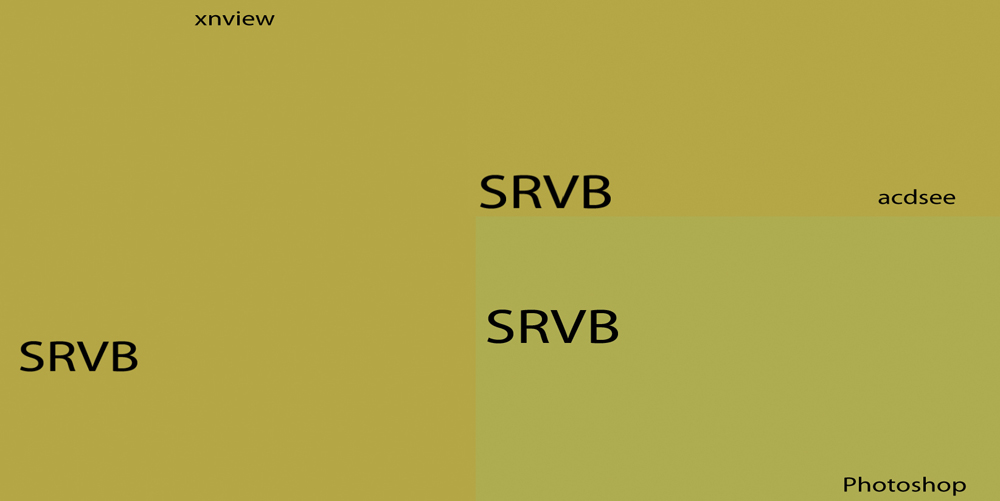 As you see, the color is really not the same outside photoshop. The image has been made in Adobe98, and convert to srgb.
–This second example is a photo of the screen, all the parts are the same image/color :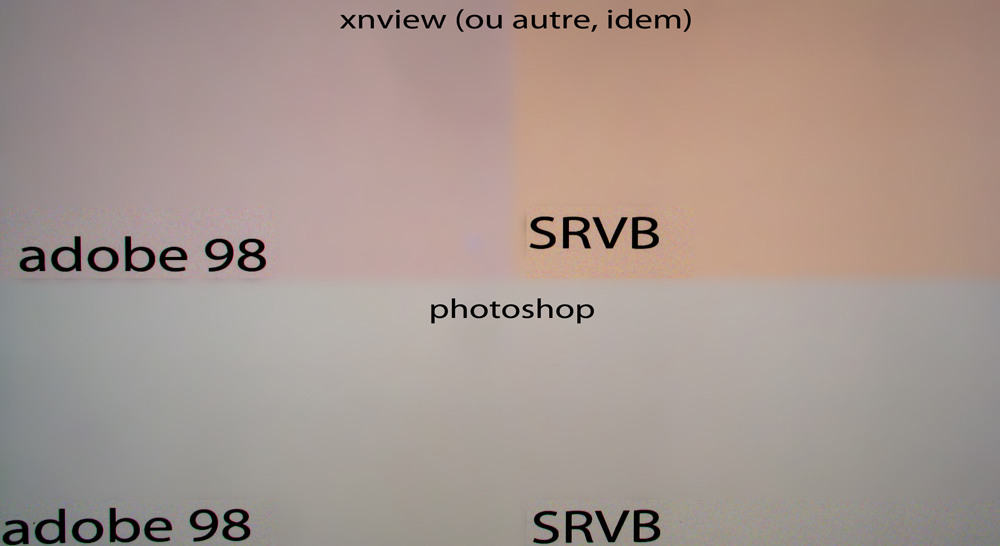 Completely normal, the color is exactly the same when I convert it in photoshop from adobe98 to srgb. No difference at all.
Not really a surprise that the adobe98 one is different in xnview, this one doesn't recognize others color spaces than srgb.
ButI really don't understand what's going on, on the right. why Xnview (or others softs like acdsee) doesn't show exactly the same color than photoshop. All the software are able to recognize srgb no ?
---
So I'm completely lost, I really don't understand what's going on.
Can it be the wide gamut ? Is it doing something that I don't know ?
If it is the wide gamut, is there a way to come back to exactly the same color than in photoshop ?
Even on a macbook, (preview or, even…photoshop with the same settings), when I load my images, the colors are really transformed like these ones)
Or even if I know photoshop since 15 years, maybe I miss something? Is there some options to know ?
I never had this problem before (on a viewsonic monitor for example, no problem between the softs with the colors in srgb).
---
For information, I work on windows vista 64, and I use the EyeOne Display2 to calibrate the monitor. This one is in "personal color" in the OSD, to be able to calibrate the differents channels.
Maybe it's not the better choice with this screen ? Or maybe photoshop need some other settings ?
My settings are :
workspace Adobe Rvb, preserve embedded profiles, convert with adobe(ACE), relative or perception, use black point compensation, use dither.
The others options are not selected.
And for windows vista, I think that the settings are ok, but I am not sure… I don't know it very well, maybe I missed something. (even if it doesnt explain that theres also a difference between windows's and Mac's photoshop)
And for the macbook, I just look the colors on his monitor (I know it's not a good monitor, but it doesnt explain such a difference in srgb…)
So if you would like to help me, it will be really really great I have a lot of images to present to my clients, and it is the first time I have to tell them "mmm, sorry it's not really the same color that I worked"
Thanks you very much,
---